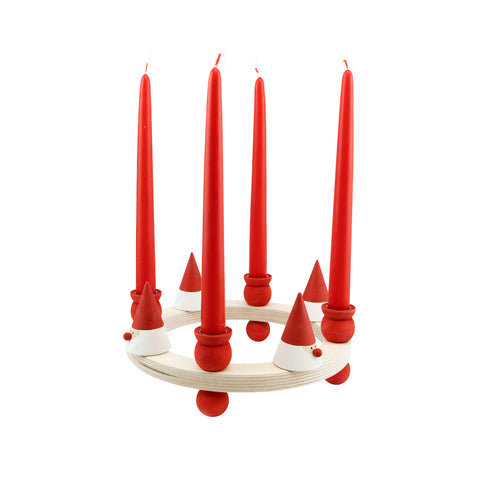 Candle wreath Large Red/4 Santa Paul
sku: 40614-1208-COMB10
Our unique candle wreaths comes complete, including four removable ornaments.

Candle wreaths are some of our most popular products and make for a beautiful and versatile decoration.

They can also be used to celebrate the Swedish tradition of Advent where a candle is lit every Sunday in December leading into Christmas Eve.

Candles are not included. They can be purchased separately.

We recommend the standard size Vio Crown candle, Vio Taper candles or use our large timber candle for decorative purpose only.

Material: Painted timber candleholders, with metal insert, on natural birch plywood ring. Decorations of painted timber.
Size: DM: 23 cm H: 8.5 cm
Made in Sweden.

Care instructions:
Remove dripping wax immediately as it can stain the candle holder permanently. Never leave unattended with burning candles.
Related products